By now, I believe you are familiar with the smart Digg button, it allows you to see whether or not the web page you are currently viewing has been submitted to Digg and lets you submit it if it hasn't. In this quick tutorial, I'll explain how it can be done.

Login to your Blogger Dashboard. Under Settings-> Archiving, set the "Enable Post Pages?" to "Yes" and save the settings.

Back to Edit Html, click the box next to "Expand Widget Templates".

Press Ctrl+F and type <data:post.body/> in the search box.





And place the below code right before it.
<div style='float:right; margin-left:10px;'>
<script type='text/javascript'>
digg_url=&quot;<data:post.url/>&quot;;
</script>
<script src='http://digg.com/tools/diggthis.js' type='text/javascript'/>
</div>

Or else you may click here to copy the above code.

The example is shown below:-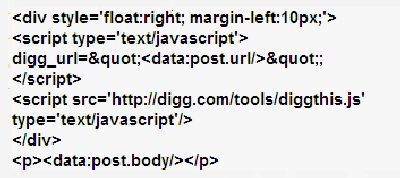 Save the changes.