Question by arch

Hi, just wondering I am used to using dreamweaver so I am having trouble with some of the concepts with blogger. One is adding pages. I know (well think) i can link to an old post but how can i then get rid of the information on the 'home' page of blogger with out getting rid of the post in the archives. Or is my concept of adding pages in blogger wrong.
Also adding video, utube is blocked where i work so what other options are there for adding video to my blog? Thanks
Answer :
To answer the 1st. question, you may rid of the info on the "Homepage" by creating the published date of the "label" post way back and linked to the post from your template. And if you dont want that particular post to be published under "Blog Achieves", just leave the "Label" blank.
Back to your no 2 question, you may add YouTube Video into your post as follows:-
1- Click on "Posting">"Create">"Edit Html", copy paste the embedded code given by YouTube such as -

(Note - once you had put the embedded code under "Edit Html", you cant preview the video by switching it to "Compose" mode. It will give you the white space! And if you plan to write something about the video, do it under "Edit Html" mode.)
2 - Put "Label" as you wish and click on "Publish Post".
3 - The end result is shown below:-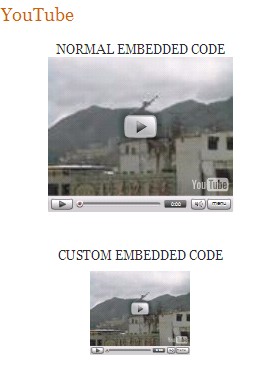 4 - You may also play around with the embedded code particularly with the width and the height in order for you to display into your sidebar.

Hope, it helps.