Tired of spammers? Have you heard about IP Address Blocker before? This free service provider is now offering you the opportunity to ban unwanted visitor/ip addresses from your blog with a single code.
An overview of my account is show below:-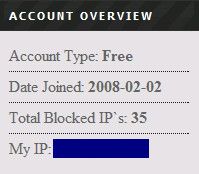 If you wanted to block an IP, just click on the "Block an IP" button and follow the instructions given.( Note - don't add invalid/incomplete ip's else the unwanted visitor still can view your homepage). The cool part is that you may redirect the unwanted visitor to somehere else of your own choice.

Where to get the IP number? The answer is you have to get it from your statcounter, google analytics, hitstats etc. Identify the culprit IP's number and there you go.
Lastly, you need to place the provided code into your blog (sidebar, header or footer)
and then you will see a logo of IP Address Blocker on your blog.