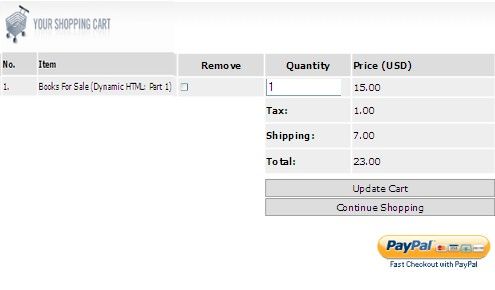 You read my
previous article
about a script to display your products, thus allowing customers to make selections. Today, I'll show you how to accept payment by using
FatFreeCart
. FatFreeCart is the free version of E-junkie shopping cart. This simpler method is a multiproduct order page, which lets customers enter quantities next to each item. What you need to do is to cut and paste the code in your blog.

Cited from an article by E-Junkie.com:-

If you are already using PayPal shopping cart, you will find the button code is similar. On top of being certified by PayPal and Google, it has been successfully tested on humans and they absolutely love it (which means higher conversion rates for you). FatFreeCart is also the only serious cart with a somewhat funny name.


As mentioned above, there are two options for accepting payments online which is also known as Person to Person services:-
a- PayPal
b- Google Checkout

Among top features are as follow:-
# Handles shipping, handling, tax.
# Handles up-to 3 option variables.
# Can handle all currencies supported by PayPal (16) and Google Checkout (2).
# Passed your site's Google Analytics data to Google Checkout
# Simply set the product price to 0.00 to let buyer enter her own amount!

Get the code here. You just need to modify the code to add your product details to the and paste it in your blog. For those who so eagerly want to start their online store, why wait?