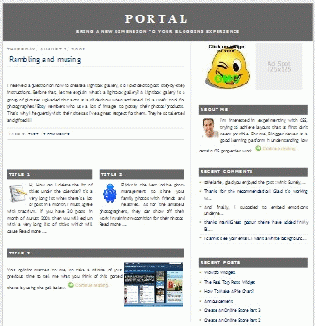 Ien
has released a new template called 'Portal'. I'd say a simple yet attractive design and definitely one of the few good templates.

Alternatively, you can also customize the template to any concept or idea of your liking with some basic CSS editing. Click here to copy the script.

This is a free template released under Creative Commons Attribution-ShareAlike 2.5 License. This means that you can use this template for your personal or commercial blog, edit it according to your needs, and even re-distribute it as long as you keep the credit links at footer.