As described by nisha in her article dated June 30 2008 pertaining to her new skin.

I feel looks lovely/simple and cool, at the same time soo professional! don't you think so? I've cracked up my brains to get my blog setup on this template, as this was not easy at all...
The Langit blogger template was originally designed by
Eches
for the WordPress platform . With his consent in reply to my earlier post:-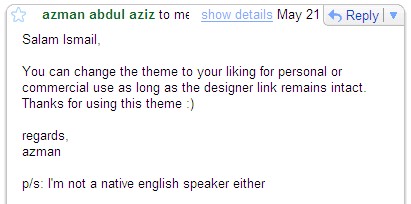 It was then converted to Blogger by Gosu Blogger. Again, I have converted this template to NEO as I'm using it right now(It employs the cutting edge technology called AJAX - in particular JSON). Many thanks to the creator of the Neo Template, Ramani. At an early stage, I was introduced by Wazz of Wazeeland


There are two divisions, the one on the left has the recent articles displayed in two major columns while the one on the right is the "About Me" which flows to become two sidebars. The primary colors of this template are black, blue and white.

Note - You'll need to make one small change in your "Settings" => "Formatting" => "Timestamp Format" section before it will work. Change whatever you currently have to this format: "Sunday, July 13, 2008″ and then save. Failure to do so, you'll see an "undefined" message instead of the post date.

This is a free template released under Creative Commons Attribution-ShareAlike 2.5 License. This means that you can use this template for your personal or commercial blog, edit it according to your needs, and even re-distribute it. Please keep the credit links at footer.