This script is something, I personally have started using quite extensively about 5 months ago. As I discussed in my previous article, I now appreciate it more than before. This guide will introduce you to JSON and explain how to use JSON with your recent comments.

Login to your Dashboard> Layout> Edit Html. Place this code right between the closing b:skin tag and the closing head tag.




Click here to copy the code.

Save the settings and click on Page Elements. Choose to add Html/Javascript, and place the below code into it.



Again, click here to copy the above code.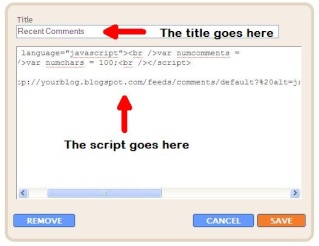 Note - You need to change the blog URL to yours. You may also change the number of comments and the characters per comment to whatever fits your blog. By default, Blogger only allows you to show up to 25 recent comments.