Like I said before, I'm interested in experimenting with CSS as I'm trying to achieve layouts that at first don't seem possible. For me, Blogger serves as a good learning platform in understanding how certain CSS properties work.

Yesterday, I came out with a new theme which is called "MY Entrecards". This theme will be able to show off my other friends' blogs and if you're a great photographer, you may also display your pictures in style.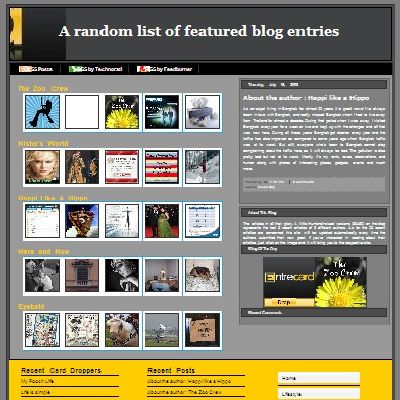 The articles in all their glory. A little thumbnail-sized versions (80x80) on the blog represents the last 5 recent articles of 5 different authors. Also, you may visit the above site at http://my-entrecards.blogspot.com/ . As for the 25 recent articles are concerned, the site will be updated automatically every time the authors submitted their new post. If you're interested in reading about their articles, just click on the image and it will bring you to the respective site.

I'd like to take this opportunity to thank all the 5 authors who cared enough to join my new site and many thanks to all my faithful readers who showered their appreciations. Also. I welcome any constructive comments on the above subject. May God bless you with happiness, togetherness, love and laughter, too.